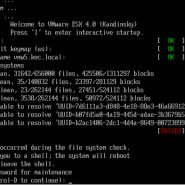 Our client's primary FreeBSD server experienced drive failure, preventing the server from allowing access to the company's data shares.
Our client already hosted their email off-site so we remotely updated each of their PCs network settings giving them immediate internet and email access. This simple task enabled our client to continue to function, meet deadlines and serve their clients.
GiraffeDog.net Ltd deployed it's engineers onsite to salvage their data and migrate them to a freshly built Ubuntu 10.10 Server. Although this was running Ubuntu 10.10, we were still able to store their Sage Line 50 data on this server and limit access to the Directors and Accounts Department.
Hosting their email off-site with us on a hosted Microsoft Exchange Server ensured that they were able to access their emails/calendar and contact details during this down time. This is a service we routinely recommend and implement.
This emergency data salvage took two days to complete and we blended their data with previously scheduled backups we  managed. In doing so, our client's downtime was kept to a bare minimum and we ensured no data was lost.
To limit our client's costs, we utilised their ongoing maintenance contract time to absorb this cost. If this service is something you would be interested in discussing with us, why not get in touch?