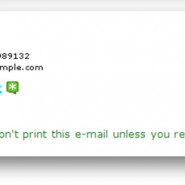 Google Mail is fantastic, enabling you or your organisation to manage all it's communication requirements via just a browser. Those of you that have come from the off-line world of Microsoft Outlook or Mozilla Thunderbird will no doubt miss the ability to include your company signature or signatures at the bottom of your messages. WiseStamp has been developed to help you manage your signatures via your webmail. Want to find out more?
WiseStamp Features
Customize your Email signature
Design style, Font, Size, Color, images etc…
Add Email Apps with updating dynamic content
Automatically Share your latest blog posts, Tweet , Facebook status or Ebay item and more…
Easily include your social services& Profiles
Facebook, Twitter, del.icio.us, IM Services, LinkedIn, and many more..
Use multiple signatures
Create business & personal signatures to insert in your emails.
Webmail compatible email signatures
Google Apps/GMail, Yahoo! Mail, Hotmail, AOL plus more
As always there's an extension out there that makes this possible. GiraffeDog.net Ltd have been testing one in particular called WiseStamp which is available from their website www.wisestamp.com.
Once installed the free version gives you the ability to manage three signatures from your browser. This insertion can be automated to happen when you compose a message in GMail.
WiseStamp's feature list doesn't end there. Once installed you are also able to link to your social networks as well as link to dynamic content such as RSS feeds and twitter feeds. This gives your email an immediately dynamic feel, giving your recipients a reason to read past your message or even your disclaimer.
The freemium features are great, but the premium service provides your company or organisation with more features for an annual fee. This is the only issue I have with the product, it's great, but the pricing structure is a little prohibitive for some. Email signatures are great, as is storing backup copies of them in the cloud, but $72 USD a year for something that is not read by many people seems a little steep to me.I can't help but feel if they dropped it to $30USD a year, they'd have more uptake. For more information on Wisestamp's Premium solution, check out their site.